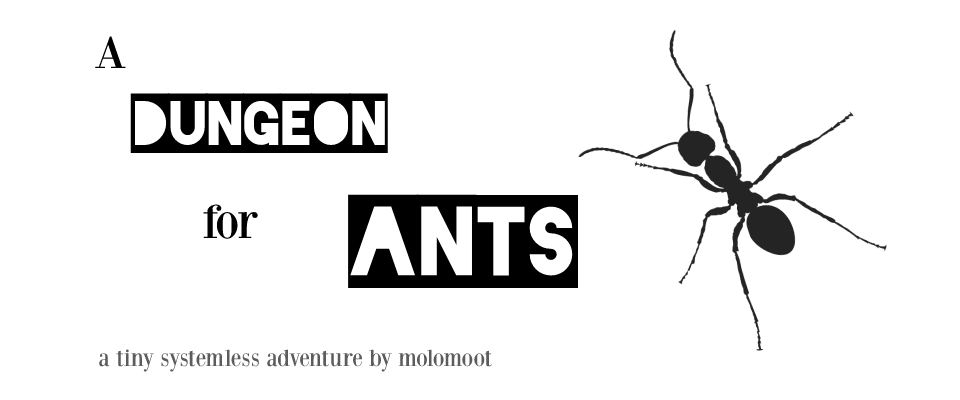 What Is This...? A DUNGEON for ANTS?
A Dungeon For Ants is a tiny one page zine about a colony of ants.
Life has not been easy for them, they have suffered many hardships under the ruthless thumb of The Titan.
And now It has stolen The Queen, taken her beyond the nest as one last cruel joke.
If the colony is to survive you must find her.
This zine should be printed & folded to be best enjoyed. It can be printed double sided on an a4 piece of paper, or on one side & folded (into a5 size - i think this is actually my fave way of doing it, but it can be fiddly and very small). Ive included basic instructions within the zine, it is a slight twist on a classic 16 page fold.
its been really hard for me to finish this project but I have put effort into it & want it to be out in the world so I can feel complete :)
Its not perfect but if you have any questions message me & I'll do my best to explain it.
Purchase
In order to download this Zine you must purchase it at or above the minimum price of $2 USD. You will get access to the following files:
A Dungeon For Ants.pdf
690 kB
Exclusive content
Support this Zine at or above a special price point to receive something exclusive.
Community Copy
Trade Comment/Review for a Copy
If you take a Community Copy PLEASE leave a comment or review (even just a quick "thanks 👍")

it really makes a difference !!
Community Copies are really important to me, but as a small creative they do impact my earnings, this is a small free way you can help me in return!
Thanks ❤️
~Mol
Comments
Log in with itch.io to leave a comment.
Love ants, had to check this out! Really cool idea.
a little video of how the final printed and folded zine will look!
I cannot figure out the "dust cover" fold?
Hey sorry for the slow reply (and I'm at work at the moment so hope this is an okay explanation !l
Once you've printed, cut and creased the paper
The final few pages will fold around the internal pages creating what looks like a cover for the book.
An example of the final zine
I hope this video of me flicking through the zine helps you understand how it should look & I will look into creating a better build guide based on your feedback!
Thanks again for taking the time and interest in my zine and let me know if I can help any more💖